Manual Test Stands
Test stands help control two key variables that can affect testing results.
Off axis forces – Stands maintain forces in line with the load cell axis
Speed variations – Stands reduce 'force surges' common in handheld testing
Testing systems often consist of a test stand, force gauge and fixtures/accessories. This flexible approach provides the most cost effective system to match your application.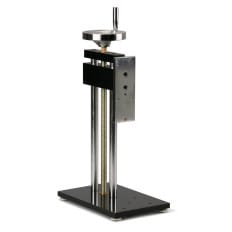 Manual Test Stands
The Dillon CT Test Stand is an affordable tool to improve the quality of testing results. It controls the variables which can affect testing results, including. Off axis forces – Maintains alignment with the force gauge axis Speed variations – Reduces 'force surges' that are common in handheld tests Aligns… Read More »